Posts for tag: mouthguards
By Thane B. Anderson, DDS
August 29, 2014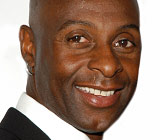 Athletic activity can boost your health, but many sports also carry some risk — especially to the teeth. This is something NFL wide receiver Jerry Rice well knows.
"Football can be brutal — injuries, including those to the face and mouth, are a common risk for any player," Rice noted in an interview with Dear Doctor magazine. In fact, Rice himself chipped a couple of teeth, which were repaired with crowns. "There wasn't a lot of focus on protecting your teeth in high school," Rice recalled.
You don't have to be a legend of the NFL to benefit from the type of high-quality mouthguard a dentist can make for you or your child. Consider that:
An athlete is 60 times more likely to suffer harm to the teeth when not wearing a mouthguard.
Mouthguards prevent an estimated 200,000 or more injuries each year.
Sports-related dental injuries account for more than 600,000 emergency room visits annually.
Each knocked-out tooth that is not properly preserved or replanted can cause lifetime dental costs of $10,000 to $20,000.
You and/or your child should wear a mouthguard if you participate in sports involving a ball, stick, puck, or physical contact with another player. Mouthguards should be used for practice as well as actual games.
It's also important to be aware that all mouthguards are not created equal. To get the highest level of protection and comfort, you'll want to have one custom-fitted and professionally made. This will involve a visit to our office so that we can make a precise model of your teeth that is used to create a custom guard. A properly fitted mouthguard is protective, comfortable, resilient, tear-resistant, odorless, tasteless and not bulky. It has excellent retention, fit, and sufficient thickness in critical areas.
If you are concerned about dental injuries or interested in learning more about mouthguards, please contact us today to schedule an appointment for a consultation. If you would like to read Dear Doctor's entire interview with Jerry Rice, please see "Jerry Rice." Dear Doctor also has more on "Athletic Mouthguards." and "An Introduction to Sports Injuries & Dentistry."
By Thane B. Anderson, DDS
April 20, 2013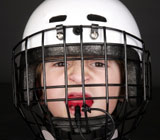 What is a mouthguard? A mouthguard or mouth protector is a protective appliance that covers the teeth and gums to prevent or reduce injury to the teeth, gums, jaws, and lips during sports or other activities prone to injuries.
Who should use a mouthguard? Children, adolescents or even adults who participate in contact or injury prone sports should use a mouthguard.
What do you mean by contact sports? Mouthguards are used most commonly in sports such as boxing, football, hockey and lacrosse. The American Dental Association recommends protection for 27 different sports, including basketball, soccer, water polo, rugby and more. The governing bodies of football, boxing, ice hockey, men's lacrosse and women's field hockey require mouth protection. It's a good idea to use a mouthguard during any activity that could result in a blow to the face or mouth.
What does the mouthguard protect against? A mouthguard protects against breaking or dislodging teeth or injuring jaws, gums, lips, or tongue, all injuries that can happen when you engage in contact or injury prone sports.
What are my choices for mouthguards? The best choice is a custom-made mouthguard fitted and made by a dentist. Stock mouthguards that are one size fits all can be bought off-the-shelf in stores, but there is no guarantee of fit or protection. A third type is a "boil and bite" guard, in which the guard material is heated and then shaped by biting down on the softened material. This offers some attempt at fitting that is better than off-the-shelf, but not as good as a mouthguard that is designed specifically for you.
Why is it better to get a mouthguard from our office than to buy one at a store? Studies have shown that store-bought stock or boil-and-bite mouthguards do not offer the same protection as a custom-made mouthguard. In our office we will make a mold of your mouth and design your mouthguard to fit your individual characteristics. It will be comfortable and easy to clean and will not restrict your speech or breathing. It will be made of resilient and tear-resistant materials, properly adapted for maximum protection, comfort and injury protection.
Wearing a properly fitted and properly used mouthguard prevents injuries to teeth, jaws, gums, lips, or tongue when you or your child participates in contact sports. Make an appointment with us to discuss your custom fitted mouthguard. To learn more read the Dear Doctor magazine article "Mouthguards."