Posts for tag: gum disease
By Thane B. Anderson, DDS
January 18, 2016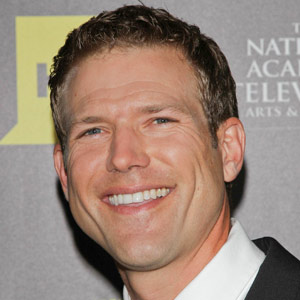 Are bleeding gums something you should be concerned about? Dear Doctor magazine recently posed that question to Dr. Travis Stork, an emergency room physician and host of the syndicated TV show The Doctors. He answered with two questions of his own: "If you started bleeding from your eyeball, would you seek medical attention?" Needless to say, most everyone would. "So," he asked, "why is it that when we bleed all the time when we floss that we think it's no big deal?" As it turns out, that's an excellent question — and one that's often misunderstood.
First of all, let's clarify what we mean by "bleeding all the time." As many as 90 percent of people occasionally experience bleeding gums when they clean their teeth — particularly if they don't do it often, or are just starting a flossing routine. But if your gums bleed regularly when you brush or floss, it almost certainly means there's a problem. Many think bleeding gums is a sign they are brushing too hard; this is possible, but unlikely. It's much more probable that irritated and bleeding gums are a sign of periodontal (gum) disease.
How common is this malady? According to the U.S. Centers for Disease Control, nearly half of all  Americans over age 30 have mild, moderate or severe gum disease — and that number increases to 70.1 percent for those over 65! Periodontal disease can occur when a bacteria-rich biofilm in the mouth (also called plaque) is allowed to build up on tooth and gum surfaces. Plaque causes the gums to become inflamed, as the immune system responds to the bacteria. Eventually, this can cause gum tissue to pull away from the teeth, forming bacteria-filled "pockets" under the gum surface. If left untreated, it can lead to more serious infection, and even tooth loss.
What should you do if your gums bleed regularly when brushing or flossing? The first step is to come in for a thorough examination. In combination with a regular oral exam (and possibly x-rays or other diagnostic tests), a simple (and painless) instrument called a periodontal probe can be used to determine how far any periodontal disease may have progressed. Armed with this information, we can determine the most effective way to fight the battle against gum disease.
Above all, don't wait too long to come in for an exam! As Dr. Stork notes, bleeding gums are "a sign that things aren't quite right." Â If you would like more information about bleeding gums, please contact us or schedule an appointment. You can read more in the Dear Doctor magazine article "Bleeding Gums." You can read the entire interview with Dr. Travis Stork in Dear Doctor magazine.
By Thane B. Anderson, DDS
September 19, 2015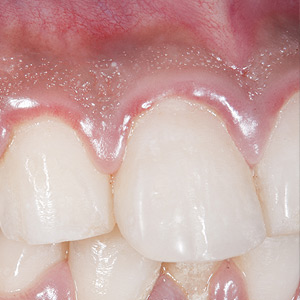 Periodontal (gum) disease is a bacterial infection, which if left untreated could cause gum recession, bone loss and eventually tooth loss. Caused mainly by plaque left on tooth surfaces from poor hygiene practices, the deeper the infection spreads below the gum line, the more difficult it is to treat.
One possible scenario involves parts of a tooth's root structure known as furcations. These are branching forks formed during the early development of teeth with multiple roots where they take different paths from the base of the crown. As gum disease spreads around the root it may cause different degrees of bone loss at the point of the branch.
It's imperative when treating gum disease to uncover and remove any bacterial plaque or calculus (hardened plaque deposits) found, including below the gum line. To address bacterial plaque at the root level, it's important to first determine if bone loss has involved the furcations (where the roots separate, also referred to as a "furcation invasion") and to what degree.
We usually classify this degree of involvement in three classes: Class I, the invasion has created a groove in the furcation, but minimal significant bone loss; Class II, the bone loss has extended into the furcation by at least two millimeters; or Class III, the bone loss extends completely from one end of the furcation to the other (or "through and through").
Depending on the class, cleaning plaque and calculus from furcations and then maintaining them thereafter can be quite challenging. We may need to use specially shaped hand instruments known as scalers or curettes to reach and clean root surfaces, or ultrasonic scalers that use high-frequency vibrations and streaming water to loosen and flush away plaque debris. It may also prove helpful, though limited, to apply antimicrobials or antibiotics to the area to help limit the levels of bacteria.
Disease damage around furcations may also require surgical treatment to encourage new tissue and bone growth in the area. Surgery can also help make the area more accessible to future cleaning and maintenance, both for you and us. Renewed hygiene practices on your part and regular cleaning and checkups with us will help ensure that the situation involving your tooth roots can be kept under control and your tooth preserved for many years to come.
If you would like more information on treatments for gum disease, please contact us or schedule an appointment for a consultation.
By Thane B. Anderson, DDS
January 15, 2013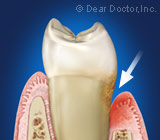 Gum disease, also called periodontal disease (from the roots for "around" and "tooth") starts with redness and inflammation, progresses to infection, and can lead to progressive loss of attachment between the fibers that connect the bone and gum tissues to your teeth, ultimately causing loss of teeth. Here are some ways to assess your risk for gum disease.
Your risk for developing periodontal disease is higher if:
You are over 40.
Studies have shown that periodontal disease and tooth loss correlate with aging. The longer plaque (a film of bacteria that collects on your teeth and gums) is allowed to stay in contact with your gums, the more you are at risk for periodontal disease. This means that brushing and flossing to remove plaque is important throughout your lifetime. To make sure you are removing plaque effectively, come into our office for an evaluation of your brushing and flossing techniques.
You have a family history of gum disease.
If gum disease seems to "run in your family," you may be genetically predisposed to having this disease. Your vulnerability or resistance to gum disease is influenced by genetics. The problem with this assessment is that if your parents were never treated for gum disease or lacked proper instruction in preventative strategies and care, their susceptibility to the disease is difficult to accurately quantify.
You smoke or chew tobacco.
Here's more bad news for smokers. If you smoke or chew tobacco you are at much greater risk for the development and progression of periodontal disease. Smokers' teeth tend to have more plaque and tartar while also having them form more quickly.
You are a woman.
Hormonal fluctuations during a woman's lifetime tend to make her more susceptible to gum disease than men, even if she takes good care of her teeth.
You have ongoing health conditions such as heart disease, respiratory disease, rheumatoid arthritis, osteoporosis, high stress, or diabetes.
Research has shown a connection between these conditions and periodontal disease. The bacteria can pass into the blood stream and move to other parts of the body. Gum disease has also been connected with premature birth and low birth weight in babies.
Your gums bleed when you brush or floss.
Healthy gums do not bleed. If yours do, you may already have the beginnings of gum disease.
You are getting "long in the tooth."
If your teeth appear longer, you may have advancing gum disease. This means that infection has caused your gum tissue to recede away from your teeth.
Your teeth have been getting loose.
Advancing gum disease results in greater bone loss that is needed to support and hold your teeth in place. Loose teeth are a sign that you have a serious problem with periodontal disease.
Even with indications of serious periodontal disease, it can still be stopped. Make an appointment with us today to assess your risks. You can also learn more by reading the Dear Doctor magazine article "Assessing Risk for Gum Disease."