Posts for: April, 2015
By Thane B. Anderson, DDS
April 23, 2015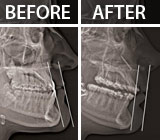 Orthodontics is a specialty of dentistry dedicated to the diagnosis and treatment of misaligned teeth, or malocclusions. The goal is to help patients achieve better long-term oral health by improving teeth alignment. Sometimes, though, the misalignment is much more involved than the position of the teeth — it may be that the jaw structure is also misaligned. In that case, the skills of an oral surgeon may be in order.
The jaws are similar in shape to the arch of a horseshoe, hence the referral to either upper or lower sets of teeth as dental arches. In a normal jaw structure, the lower arch fits just inside the upper arch when you bite down and the teeth are able to function correctly. In some individuals, though, the lower arch closes in front of the upper arch, commonly known as an underbite. If the underbite is only slight, the malocclusion can be corrected by repositioning the teeth only, as with braces. If, though, the underbite is more severe it would require a surgical procedure to realign the jaws, also known as orthognathic surgery.
Orthognathic surgery can help relieve a number of functional complications caused by jaw-related malocclusions: difficulty chewing and swallowing; chronic jaw or head pain; or sleep apnea. It can also enhance the patient's facial appearance by correcting an imbalance between the two lateral sides (asymmetry), or by minimizing a receding chin or protruding jaw.
Its primary benefit, though, is its effect on the patient's bite and tooth alignment. For this purpose, the orthodontist and oral surgeon work together to achieve the best result possible. In some cases, the orthodontist may perform his or her work first by moving teeth into the proper position. This sets the stage for the oral surgeon to perform orthognathic surgery to complete the correction of the misalignment.
Each individual patient's case is different — the best plan of action must begin with a full examination by an orthodontist, and a consultation with an oral surgeon if necessary. It may require time and the expertise of two specialties, but the final result will be better health and a better look.
If you would like more information on various orthodontic procedures, please contact us or schedule an appointment for a consultation. You can also learn more about this topic by reading the Dear Doctor magazine article "Jaw Surgery & Orthodontics."
By Thane B. Anderson, DDS
April 08, 2015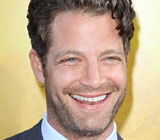 As one of America's most beloved go-to guys for inspiration on the latest interior design trends, Nate Berkus has written a highly successful book, Home Rules: Transform the Place You Live Into a Place You'll Love; he is a contributing editor to O Magazine; and he is currently hosting his own television program, The Nate Berkus Show. He is also recognized for his eye-catching smile.
During a recent interview with Dear Doctor magazine, Berkus opened up about the facts behind his trademark smile. While his smile is all-natural — he never wore braces or had any cosmetic work done — he gives credit to his childhood dentist for the preventative healthcare he received as a young boy. "I'm grateful for having been given fluoride treatments and sealants as a child," he said. Nate also shared the important flossing advice he learned from his dentist that he still follows today: "Floss the ones you want to keep."
Why is flossing so important?
Flossing is crucial because it remains the most effective method for removing plaque from between teeth, where the toothbrush can't reach. It is also an important part of keeping your gums healthy so that you can avoid periodontitis (gum disease). You should floss at least once a day either before or after you brush your teeth. If you see blood after flossing, it may indicate that you have periodontitis, or it may mean that you are flossing too harshly. Remember, you need to use a delicate hand and a proper technique when brushing and flossing to avoid damaging your teeth and gums.
To learn more about flossing, including step-by-step instructions with photos, you can continue reading the Dear Doctor magazine article "Flossing — A Different Approach." Or you can contact us today to schedule an appointment so that we can conduct a thorough examination, review your brushing and flossing techniques, and discuss any questions you have as well as treatment options. As needed, we will work with you to teach you the proper brushing and flossing techniques so that you feel confident before you leave our office. And to read the entire interview with Nate Berkus, please see the Dear Doctor magazine article "Nate Berkus."