Posts for: September, 2014
By Thane B. Anderson, DDS
September 23, 2014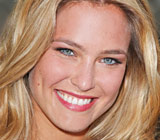 Let's say you happen to be sitting on a plane next to supermodel Bar Refaeli, who was recently voted #1 on Maxim magazine's Hot 100 list. You're a little nervous, but you want to make a good impression. What's the first thing she's going to look at? Your expensive suit? Your sculpted torso? How about — your smile!
"Teeth are the first thing I look at," explained the glamorous cover girl in a Maxim interview. "A nice smile with beautiful teeth is the most attractive thing."
We wholeheartedly agree. But, of course, not everyone is lucky enough to be born with a perfect set of teeth. What to do then?
"Let's just say that with today's orthodontists, I don't understand why people wouldn't fix them," Refaeli stated. Need we say more?
The Israeli supermodel, who has appeared in several Sports Illustrated swimsuit issues, knows what she's talking about. Refaeli started modeling as a young child, but had to put her career on hold for a few years while she got braces. When they came off, at age 11, she began her steady climb to the top of the modeling business.
Plenty of aspiring actors and models — as well as regular folks — get braces as children. But if you're serious about improving your smile, it's never too late to have orthodontic treatment. For adults, there are many options available in addition to the standard metal appliances.
Colorless ceramic braces offer a less noticeable way to correct misaligned teeth. Made of high-tech materials that resist staining, their translucent appearance blends so well with the look of your natural teeth that it can be hard to tell you're wearing them.
Clear aligners are an alternative to braces that are worn 20-22 hours per day. They consist of a series of precision-made, transparent "trays" that gradually straighten your teeth over a period of time. Best of all, you can remove them for special occasions — like meeting a supermodel.
Which type of orthodontic treatment is best for you? Why not come in for a consultation and find out! Working together, we can evaluate your situation and develop an effective, individualized treatment plan that fits your lifestyle.
If you have questions about orthodontic treatment, please contact us or schedule an appointment for a consultation. You can learn more in the Dear Doctor magazine article "Orthodontics For The Older Adult."
By Thane B. Anderson, DDS
September 08, 2014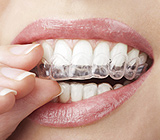 Your dental appliance plays a big role in restoring function and improving your appearance. Taking proper care of it will ensure it can do that for a long time.
Cleaning is a top priority. Though it might seem natural to use toothpaste, you should avoid using it on your appliance. The abrasives in toothpaste are necessary to break up plaque on natural teeth's hard enamel surfaces, but will leave micro scratches on the surface of your appliance that eventually become havens for bacterial growth — a sure recipe for discoloration and unpleasant odors. If you plan to use boiling or hot water to disinfect your appliance, don't. The heat distorts the plastic and can disrupt its precise mouth fit. You should also avoid using bleach because it can break down the composition of the plastic, can leave a strong odor, and can whiten the pink "gum tissue" areas of the denture.
Instead, use plain liquid detergent or hand soap with warm water to clean your appliance — and use a brush designed for it rather than your toothbrush. If you have a long-term appliance like a denture, you might consider investing in an ultra-sonic cleaner that uses high frequency sound vibrations to clean out small crevices a brush can't reach.
Remember the old saying, "familiarity breeds contempt?" With dental appliances, too much time in the mouth breeds bacteria. Dentures, for example, should be taken out at night to allow saliva and its antibacterial capacity to work in your mouth. You also should be on the lookout for signs of infection — if anything appears amiss, contact us for an exam as soon as possible to minimize the effects of tooth decay or gum disease.
One final item: be careful where you place your appliance when it's not in your mouth. Lying out in the open (like on a nightstand) is a tempting lure for the family pet or a curious child. Keep it in its case in accordance with the care instructions given you when you received your appliance.
Doing the right things — and avoiding the wrong things — when caring for your dental appliance will go a long way to increasing its life and reducing problems along the way.
If you would like more information on caring for your oral appliance, please contact us or schedule an appointment for a consultation.