Posts for: April, 2014
By Thane B. Anderson, DDS
April 17, 2014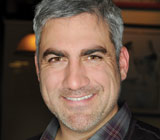 If (heaven forbid) you were to lose your two front teeth in an accident, and you needed to choose a tooth replacement method, which one would you pick? Once upon a time, that question faced Taylor Hicks, the former American Idol winner who now plays a regular gig in Las Vegas. Back then, when he was a high-school basketball star, Hicks happened to receive a blow to the mouth at a playoff game. As fate would have it, he also happened to be the son of… wait for it… a dentist. So what did he do?
The down-to-earth song stylist recently told Dear Doctor magazine how, immediately after the accident, his father administered first aid, getting him back into the game before it ended. Then, a short while afterward, Hicks had the gaps in his smile fixed with dental implants.
We think he made a good choice. While there are other tooth replacement systems, none offer the benefits provided by dental implants. In case you need a reminder, here are some facts about dental implants:
They have the highest success rate of any tooth replacement procedure — above 95%
They are the most durable type of replacement tooth — with proper care, they can last for the rest of your life
They look and "feel" completely natural, and require no special maintenance
They are the only tooth replacement system that essentially stops bone loss in the jaw (a natural consequence of tooth loss), helping to maintain good oral health
Over the long term, they can offer the best value for your investment in dental care
What makes dental implants work so well? Unlike bridgework or other methods, lifelike implant crowns are supported by a screw-like titanium metal insert, which actually becomes fused with the bone of the jaw. This not only provides the prosthetic teeth with a rock-solid anchorage, but it also helps provide the physical stimulation that bone needs to keep itself healthy. Lacking this stimulation, the jaw bone begins to atrophy and erode (melt away) — and if left untreated long enough, it can result in the appearance of premature aging and other oral health problems.
So if you have missing teeth — whether from an accident, disease, or another cause — contact us or schedule an appointment for a consultation, and find out whether dental implants might be right for you. You can learn more in the Dear Doctor magazine articles "Dental Implant Surgery" and "Dental Implants."
By Thane B. Anderson, DDS
April 02, 2014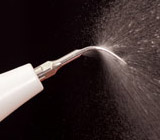 While you may most associate professional dental cleanings with that "squeaky" clean feeling you have afterward, there is a much higher goal. What is also referred to as "non-surgical periodontal therapy," these cleanings seek to remove bacterial plaque and tartar (hard deposits) not only from the visible portions of the tooth but also the root surfaces (scaling), so as to reduce the risk and occurrence of periodontal gum disease.
For generations, this was primarily achieved by dental hygienists using hand-held instruments specially designed to manually remove plaque from tooth surfaces. Since the 1950s, though, a new technology known as ultrasonic or power scaling has become more prevalent in use. Initially only used in the outer most portions of the gum tissue (the supra-gingival area) power scaling is increasingly employed to clean the sub-gingival area, much closer to the tooth roots. As this technology has developed, it's been shown to be just as effective, if not superior in some cases, to manual scaling for removing plaque and tartar.
Ultrasonic or power scalers work by emitting high vibration energy that crushes and removes plaque and calculus (tartar). The resulting shockwaves also tend to disrupt bacterial cell function. The hygienist uses water to flush away the dislodged calculus. They have a number of advantages over manual scaling: they're quite effective on deep gum pockets, especially when specially designed tips are used; they require less time than manual scaling; and when used correctly power scalers are gentler to tooth structures.
However, they do have a few drawbacks. Because they produce an aerosol effect, power scalers can project contaminants from the patient's mouth into the atmosphere, requiring special protective equipment for the hygienist. They're not recommended for patients with hypersensitive teeth, especially regarding temperature change, or for teeth with areas of de-mineralization (the loss of mineral content in the enamel). Care should be taken when they're used with implants or porcelain or composite crowns — specially designed tips are necessary to avoid scratching the restoration. They may also have an effect on cardiac pacemakers.
In the end, the best approach is a combination of both power and manual scaling techniques. Depending on your individual needs, ultrasonic scaling can do an effective job in removing plaque and tartar and help you avoid gum disease.
If you would like more information on ultrasonic cleaning techniques, please contact us or schedule an appointment for a consultation. You can also learn more about this topic by reading the Dear Doctor magazine article "Dental Cleanings Using Ultrasonic Scalers."