Posts for: December, 2013
By Thane B. Anderson, DDS
December 24, 2013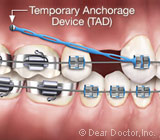 The field of orthodontics continues to progress with new and innovative techniques. One such innovation is known as a TAD — Temporary Anchorage Device. Best described as "mini-implants," TADs provide orthodontists with more precise control over the movement and positioning of certain teeth that could reduce treatment time.
Braces, the most common form of orthodontic device, are small brackets affixed to the outside of the teeth. We thread small flexible wires through the brackets which in turn apply gentle pressure to the teeth. This puts pressure on the periodontal ligament, an elastic tissue that holds the teeth in place to the jawbone. The ligament has small fibers that insert into the teeth and are held there by a substance called cementum. The pressure on the ligament causes it to form new bone, ligament and cementum as it moves into the new desired position.
Of course, each orthodontic case is different. The best outcome for some patients is to move only certain teeth, while minimizing movement on others. This involves a concept in orthodontics known as "anchorage," a planned circumstance where certain teeth or groups of teeth are immobilized (or "anchored") to prevent movement.
TADs do just that — they are, in effect, mini-screws or implants temporarily placed in the jaw bone to inhibit movement of a specific tooth or group of teeth, while not interfering with the movement of the misaligned teeth. These tiny devices are typically installed using only local anesthesia to numb the general location of their placement, and then removed when orthodontic treatment is completed.
TADs are part of an overall strategy to correct poor bite and teeth misalignment in the most precise and efficient way possible. They require planning, sometimes through consultation with different dental disciplines, to assure that their placement won't damage nerves, sinuses or other vital structures. Their use, though, could help shorten treatment time with braces, and help contribute to the best possible outcome — a new smile.
If you would like more information on transitional mini implants, please contact us or schedule an appointment for a consultation. You can also learn more about this topic by reading the Dear Doctor magazine article "What are TADs?"
By Thane B. Anderson, DDS
December 10, 2013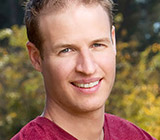 If you follow the hit TV reality show Amazing Race, you know that professional-hockey-playing brothers Bates and Anthony Battaglia won the $1 million prize in the latest globe-spanning competition. You may also have witnessed Anthony removing his false front teeth from time to time — like when he had to dive for pearls in Bora Bora. Since he plans to resume his sports career, Anthony wears a partial denture to fill the gap in his classic "hockey mouth." He has said that when he finally hangs up his skates, he will use some of his Amazing Race prize money to get new, permanent teeth. When it's time to get that new smile, Anthony, like many people, will have to choose between two good options for permanent tooth replacement.
The preferred option for most people is dental implants. In this system, tiny titanium posts substitute for the root part of your missing tooth (or teeth). These are placed beneath your gum line in a minor surgical procedure we perform right here at the dental office. The amazing thing about dental implants is that they actually fuse to your jawbone, allowing your replacement teeth to last a lifetime.
The titanium implant itself is not visible in the mouth; the part of an implant tooth that you see is the lifelike crown. Virtually indistinguishable from your natural teeth, the crown is attached to the implant above the gum line. Dental implants can be used to replace a single tooth, multiple teeth, or even all your teeth. You don't necessarily need one implant for every tooth because implants can support bridgework or even a complete set of prosthetic teeth.
The second-best option is a natural-tooth fixed bridge. In this system, we use healthy natural teeth on either side of the empty space left by a missing tooth (or teeth) as supports for one or more of the prosthetic teeth that will fill the gap. The downside is that in order to turn these healthy teeth into supports (which are referred to in dentistry as "abutments"), we need to remove some enamel and then cap them. This procedure can leave those teeth more prone to decay than they were before. But with regular dental exams and good oral hygiene on your part, bridgework can last many years.
Which system is right for you? That's a question we would be happy to help you determine... even if you haven't won a large jackpot or gone pearl diving in Bora Bora. If you've been looking forward to the day when you can have permanent replacement teeth, why wait? Contact us or schedule an appointment for a consultation. We will help you find your ideal solution to the problem of missing teeth! For more information, please see the Dear Doctor magazine articles "Dental Implants vs. Bridgework" and "Dental Implants: Your Third Set of Teeth."