Posts for: August, 2013
By Thane B. Anderson, DDS
August 29, 2013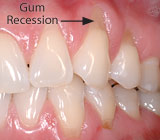 If you have noticed that one or more of your teeth have lost some of the surrounding pink gum tissue so that part of the root surface is now uncovered, you are experiencing gum recession. It's a very common problem — in fact millions of Americans have some degree of gum recession. Fortunately, there are very effective methods of treating it.
Gum recession can be unsightly, but there are more serious concerns. Tooth root surfaces exposed by gum recession can become sensitive to temperature and pressure changes and can decay or wear away. In very severe cases, teeth can actually be lost. That's because gum or "gingival" tissue as it is medically known is supposed to encircle and firmly attach to the necks of the teeth and the underlying bone. This forms a protective barrier that is resistant to the abrasive action of foods during eating, biting and chewing.
Gum tissue is largely made of a fibrous protein called collagen, covered by a layer of another very resilient protein called keratin (nails and hair are also made of it). Yet it is still possible for this tough tissue to lose its grip on the teeth it protects. Here are some of the ways this can happen:
Ineffective oral hygiene — inadequate removal of dental bacterial plaque (biofilm) with daily brushing and flossing.
Excessive brushing (and flossing) — too hard, or for too long.
Habits — holding foreign objects between the teeth, such as bobby-pins, nails etc that press on the gum tissues.
Oral appliances and ornaments — badly fitting removable partial dentures and orthodontic appliances (braces), or tongue bolts and oral piercings can apply pressure to the gums.
Treatment will depend in part on whether the recession is stable or progressive. For example, an older person might have a few areas of gum recession but there are still adequate zones of attached protective gum tissue and the exposed tooth root surfaces are healthy. In this case, there may not be reason to do anything but monitor the situation. On the other hand, a teenager with a history of fairly rapid gum recession (over a period of months) usually requires immediate treatment. The dental specialty of periodontics ("peri" – around; "odont" – tooth) has developed predictable surgical techniques to deal with recession.
Free Gingival Grafting, for example, involves taking a very thin layer of skin from the palate, where the tissue is identical to gum tissue, and transplanting it to the area where gum has been lost. Both sites will heal in a very predictable and uneventful manner. The free gingival graft is so-called because it is "freed" from the donor (original) site completely. It is crucial to make sure individuals with gum recession correct faulty hygiene habits prior to this (or any) treatment so that they will not jeopardize their future results.
If you are concerned about gum recession, please contact us or schedule an appointment for a consultation. You can also learn more about gum recession and gingival grafting by reading the Dear Doctor magazine article "Periodontal Plastic Surgery."
By Thane B. Anderson, DDS
August 14, 2013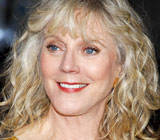 After her husband, producer Bruce Paltrow, succumbed to oral cancer in 2002, actress Blythe Danner made it her mission to help save other families from the heartache she and her children (Jake and Gwyneth Paltrow) suffered with his loss. Now active with the Oral Cancer Foundation, Blythe uses her fame to bring awareness to the disease, which she says she and her family knew very little about before Bruce received his diagnosis.
In an interview with People magazine, Blythe said she believes her husband's cancer could have been detected earlier if the family had been alert to the symptoms.
"For months I had noticed Bruce's voice was hoarse," she said. "I started asking him to see a doctor. But he kept saying, 'No, no, no, I'm fine.' "
When a lump became visible in his neck, he did go to the doctor and found he had a tumor in his throat. The cancer eventually spread to his lymph nodes. Compounding Blythe's sadness is the feeling that she might have been able to do something to prevent her husband's death.
"I feel tremendously guilty," she told the magazine, noting that she wishes she had simply insisted her husband get himself checked out. "Education and early detection are so important," she said of her campaign to raise awareness. "That's why I'm doing this."
Though Bruce Paltrow was a smoker, it's important to note that young, non-smokers comprise the fastest-growing segment of the population being diagnosed with the disease. That's because a sexually transmitted virus known as HPV16 is now a major cause of oral cancer.
Oral cancer screenings are yet another good reason to make regular semi-annual visits to the dentist. We have the training to notice oral abnormalities, and to monitor and/or biopsy any suspicious lesions. At your oral cancer screening, we will feel your neck for lumps and inspect your lips and all inside surfaces of the mouth, including the back of your throat.
Of course, if you or a loved one experience persistent hoarseness, white or red patches or other changes in your mouth or tongue that don't go away in a few weeks, please don't hesitate to come in and see us.
If you have any concerns about oral cancer, please contact us or schedule an appointment for a consultation. You can learn more about the disease in the Dear Doctor magazine article "Oral Cancer."