Posts for: January, 2013
By Thane B. Anderson, DDS
January 15, 2013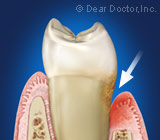 Gum disease, also called periodontal disease (from the roots for "around" and "tooth") starts with redness and inflammation, progresses to infection, and can lead to progressive loss of attachment between the fibers that connect the bone and gum tissues to your teeth, ultimately causing loss of teeth. Here are some ways to assess your risk for gum disease.
Your risk for developing periodontal disease is higher if:
You are over 40.
Studies have shown that periodontal disease and tooth loss correlate with aging. The longer plaque (a film of bacteria that collects on your teeth and gums) is allowed to stay in contact with your gums, the more you are at risk for periodontal disease. This means that brushing and flossing to remove plaque is important throughout your lifetime. To make sure you are removing plaque effectively, come into our office for an evaluation of your brushing and flossing techniques.
You have a family history of gum disease.
If gum disease seems to "run in your family," you may be genetically predisposed to having this disease. Your vulnerability or resistance to gum disease is influenced by genetics. The problem with this assessment is that if your parents were never treated for gum disease or lacked proper instruction in preventative strategies and care, their susceptibility to the disease is difficult to accurately quantify.
You smoke or chew tobacco.
Here's more bad news for smokers. If you smoke or chew tobacco you are at much greater risk for the development and progression of periodontal disease. Smokers' teeth tend to have more plaque and tartar while also having them form more quickly.
You are a woman.
Hormonal fluctuations during a woman's lifetime tend to make her more susceptible to gum disease than men, even if she takes good care of her teeth.
You have ongoing health conditions such as heart disease, respiratory disease, rheumatoid arthritis, osteoporosis, high stress, or diabetes.
Research has shown a connection between these conditions and periodontal disease. The bacteria can pass into the blood stream and move to other parts of the body. Gum disease has also been connected with premature birth and low birth weight in babies.
Your gums bleed when you brush or floss.
Healthy gums do not bleed. If yours do, you may already have the beginnings of gum disease.
You are getting "long in the tooth."
If your teeth appear longer, you may have advancing gum disease. This means that infection has caused your gum tissue to recede away from your teeth.
Your teeth have been getting loose.
Advancing gum disease results in greater bone loss that is needed to support and hold your teeth in place. Loose teeth are a sign that you have a serious problem with periodontal disease.
Even with indications of serious periodontal disease, it can still be stopped. Make an appointment with us today to assess your risks. You can also learn more by reading the Dear Doctor magazine article "Assessing Risk for Gum Disease."
By Thane B. Anderson, DDS
January 05, 2013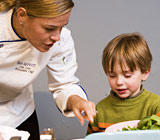 When Cat Cora is not doing battle as the first female chef on the Food Network's hit series Iron Chef America, she is busy caring for the needs of her four active young sons. This includes monitoring the food they eat and their oral hygiene habits.
The busy chef, restaurateur, author, philanthropist and television personality recently revealed in an interview with Dear Doctor magazine that it all started when her four sons were little. She got rid of bottles and sippy cups as soon as possible to prevent tooth decay. She also started exposing her boys to a wide variety of spices and foods when they were infants — for example, by putting cinnamon in their baby cereal. Cat limits the amount of sugar in their diet by using fruit puree in baked goods and BBQ sauces, or the natural sugar substitute Stevia. Furthermore, Cat reports, "my kids have never had fast food."
Cat is right on target with her approach to her children's oral health. In fact, we are often asked, when is the right time to schedule a child's first dental appointment? Our answer surprises some people — especially those expecting their first child.
The ideal time to take your child to the dentist is around age 1. Why so young? A baby's first visit to the dentist sets the stage for lifelong oral health. Besides, tooth decay can start very early. Baby Bottle Tooth Decay (BBTD), as the name suggests, impacts children who often go to sleep sipping a bottle filled with a liquid containing natural or added sugars, such as formula, fruit juice or a fruity drink mix. Another condition, Early Childhood Caries (ECC), is often found in children who continuously use sippy cups (again, filled with sugary liquids), children who breast feed at will throughout the night, children who use a sweetened pacifier, and children who regularly take sugar-based oral medicine to treat chronic illness.
To learn more about this topic, continue reading the Dear Doctor magazine article "Age One Dental Visit." Or you can contact us today to schedule an appointment. And to read the entire interview with Cat Cora, please see the article "Cat Cora."